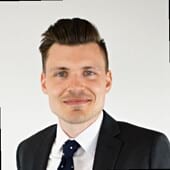 Jeppe Nørgaard Oving
Finance Director – Global Functions
Who we are
Shared Services has a headcount of 17 people working in four separate departments: HR, Facility Management, Finance and Project Controlling. Nevertheless, we work as a unified team and strive to pay great attention to the well being of all our members at all times. Humour is a key element in our department and serves as an important counterweight to the daily work with figures, structure and processes. This makes our team a perfect fit for the informal corporate culture at Columbus. 
As a team, we aim to always demonstrate a high degree of adaptability and assume responsibility in a corporate sector marked by rapid change. We take great pride in being the ones our sister companies turn to when they are in need of advice on implementation and updating of important processes.
What we do
We provide the back office support needed to ensure the smooth and seamless operation at all Columbus companies in Denmark and Norway.
Facility Management provides the optimal work conditions and the best service for our colleagues in all location-related issues, from preparing the daily breakfast to ensuring that stocks are always filled.


We help employees in Columbus reduce the administrative burden and optimize the onboarding and offboarding processes.