Customer Experience & Engagement
·
Ballerup, Aarhus
·
Hybrid Remote
Join us in our CRM growth journey
We are looking for a Senior CRM /CXE consultant right now.
Welcome to Columbus! You might have heard about us? We aid and guide businesses  into a succesfull digital transformation.
So, what do we actually do? Well, we implement and take care of our customers' CRM systems amongst other things. And we do so together with some of the largest CRM suppliers in the world, such as Microsoft and Salesforce.
In fact, we are among the fastest growing CRM implementers in Scandinavia. Most of our customers have thousands of employees globally, which means that we offer a wide spread of competencies in AI, data, ecommerce, change management – and much more. And this is where you come in, dear CRM consultant. You might be the missing piece of the puzzle in our growing organization.

Who is Columbus?
1500+ employees globally
Founded in Denmark
Excels in digital advisory 
We are looking for new colleagues with skills in CRM/CXE, with a focus on Dynamics 365
Who are you?
You are a curious and competent CRM/CXE consultant
You can lighten up our kick-offs and weekly Friday Bar with your funny and nice personality
You love to learn about new customers and their challenges (just like us!)
You want to work with and learn from the best of the best in different fields and industries
You want a job and position that is varied, flexible, global, and exciting
You can have any nationality, but the position requires full proficiency in Danish.
What can you expect from us?
Plenty of growth opportunities
New challenges, complex projects, and new surprises every day – the life of a CRM/CXE consultant is always varied with many chances to develop new skills. Our consultants can expect an exciting career ahead of them, with many new opportunities to grow and take the next step forward. You are never alone on your mission, of course, and you have plenty of colleagues to bounce ideas off of.
Henrik Baasch, head of Customer Experience and Engagement at Columbus Denmark, explains that consultants have many opportunities ahead of them. You could, for example:
Grow into becoming a subject matter expert.
Go from junior to senior, or senior to Project Manager, and so on.
Work with something completely new at Columbus. One of the perks of working at a company like Columbus is that there are many different paths you can take if you are driven and like to learn new things.
Exciting customers and challenges
You'll get to work with large companies in all of Scandinavia – and the world. They all face different challenges with their CRM solutions, and you get to help them on their journey.
An example of a challenge that you could be working for is a customer that needs to unify their sales processes across the globe. They have a limited number of resources and need to perfect their sales teams' efforts. This is where someone like you would come in.
Together with the rest of the CRM/CXE team, you would find the best solution for this specific customer and their business, implement the solution, and help the customer get started. But this is not where the journey will end. We have long-lasting relationships with our customers and usually continue to deliver value even after a solution has been delivered.
Good working conditions – no matter who you are, or where you are in life
Different people need different things to succeed. This is why you will get to decide what way of working works the best for you. We follow a hybrid work model, flexible work hours. And new moms or dads will receive 100% of your salary for 24 weeks if you go on parental leave.
"There is room for you as a person here", as Henrik, your potentially new manager, describes it.
A great manager and competent colleagues
You will get to work with a manager who cares about your work situation and development, and who is an expert in his field. His name is Henrik Baasch, and you can learn more about him here.
In your daily work, you will also meet nice, competent, and curious colleagues, such as Louise.
Meet Henrik Baasch, Head of Customer Experience and Engagement: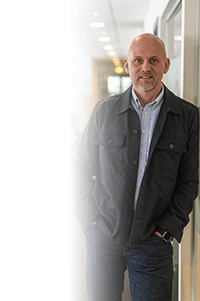 "Coming to Columbus was like coming home"
With more than 25 years of experience working with CRM, Henrik Baasch knows what he is looking for in CRM/CXE-consultants. And it's not just about the technical knowledge or how many certificates you have: He is looking for someone who has a business mindset and genuine interest for the customer.
Henrik has long experience of working with CRM, commerce, sales, and marketing. When he was offered the position at Columbus, where he gets to use all his knowledge to help the customers, he immediately took the chance.
"I've always been working with customer related processes, but it was really like coming home", he says about starting to work at Columbus.
Before Henrik started working at Columbus, he had the notion that it was "just an ERP company". But now, he understands how all pieces are put together by the different parts of Columbus.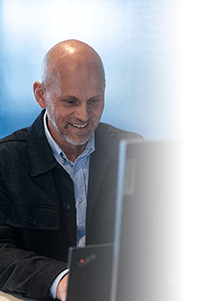 "I thought of Columbus as this huge ERP-monster, but then I saw what was ahead of Columbus, and I really think it is very exciting. But we are not starting from scratch. We come with a well-established brand, a large company, and a lot of customers that are very fond of us – but we can go even further. And I thought: Wow, I want to be part of that."
Henrik and his team of CRM/CXE-consultants are already starting up the process together with colleagues from all over the world. Right now, they are for example helping a very well-known customer in Sweden with picking the right CRM-system for their needs.
"It's never about making a customer choose something because Columbus wants them to use it", Henrik explains. "Instead, the focus is on improving their business and finding the right solution." This is why Henrik is looking for a consultant that is curious, that wants to help the customers and has a mind for business.
What is special about Columbus as a workplace?
"First of all, I think the people at Columbus are extremely knowledgeable, experienced, very helpful and open towards new people. There are really, really good people that are working for Columbus. It's also a company where you can have a family, and where you can have a private life and balance. There's room for you as a person here."
"I know other consulting companies where they own you from Monday to Friday and then it starts all over again. That's not Columbus. And as long as I'm here, it will not be like that."
Where will the CRM/CXE department at Columbus Denmark be in five years?
"We will be a big team in Denmark, supporting various solutions. We will be well known among our clients for doing a fantastic job of bringing in business and process improvements in the CRM space. We will continue to work cross borders and within the industries that Columbus is here to serve, and we are among the top three companies you would call for a CRM solution in Denmark."
How Louise Devantier is making a career at Columbus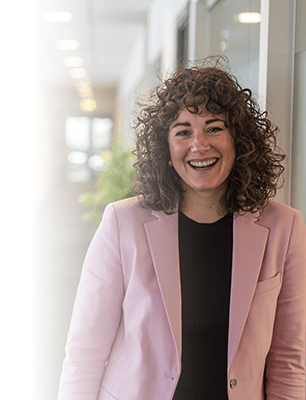 Louise started working at Columbus in January and feels that she has landed at the right place, at the right time.
Why did you choose to start working at Columbus?
"I saw a post on LinkedIn that referred to the Columbus Instagram, and the Instagram was fun and really active, which I found very interesting. I thought the Instagram was showing a good work environment."
How was the onboarding process?
"It was good! I got a Mentor, who took care of me in the first couple of months."
What are you looking forward to in the near future at Columbus?
"I'm really looking forward to getting more involved in projects, and hopefully onboarding some new colleagues."
How would you describe the CXE team?
"We are a small, newly established team located in Denmark. We always eat lunch together and talk about other things than work. Even though we are a small team in Denmark, we have good colleagues around the world that we can reach out to if needed."
Become a part of Columbus!
With us you don't have to send motivated applications or answer hourly long questionnaires. That time has passed 🙅‍♀️ You can easily apply with just your CV and LinkedIn profile. As we love meeting new, skilled people, you are also more than welcome to reach out to us and come by for a cup of hot coffee and a chat about the many opportunities in Columbus ☕ If you have any questions at all, please reach out to us through the chat function right here in the lower right corner.
We look forward to hearing from you 🙏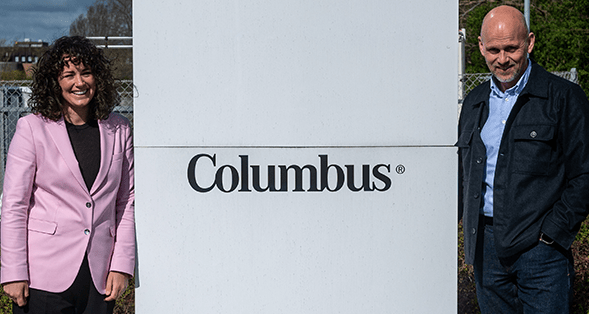 Department

Locations

Remote status

Hybrid Remote
Contact
Nanna Carlsen
Talent Acquisition & Employer Branding Specialist – Global Functions
About Columbus Denmark
Columbus is an IT consulting company with more than 1.500 employees around the world. What we do best is the development, implementation and maintenance of digital business solutions. Our task is to guide customers in their digital transformation so that their companies can continue to be successful for a long time to come. In the last 30 years, more than 2,500 customers have hired us. It's going well, quite simply. If you ask us, the secret is that we have a wide range of technical solutions, deep industry knowledge, extensive technical expertise and a good dose of customer understanding.
Our employees are committed to their work and the company is characterized by a strong entrepreneurial spirit. This is thanks to the opportunities that actually exist to be involved and influence both our own and our customers' operations. Now we need grow and want to take you on to the journey!
Customer Experience & Engagement
·
Ballerup, Aarhus
·
Hybrid Remote
Join us in our CRM growth journey
Loading application form
Already working at Columbus Denmark?
Let's recruit together and find your next colleague.